Say "I Love You Mom" with Our 15 Best Personalized Gifts for Mother's Day 2019!
With another spring comes another Mother's Day and with it, the perfect opportunity to show Mom just how much you love her. Though it may be a cliché, it truly is the thought that counts when giving a gift. When you want to show your mother the deepest of appreciation for all she has given you and for being the amazing woman that she is, the perfect gift has to be one that comes from the heart. That's where we come in. The article puts the spotlight on our selections for the best personalized gifts for Mother's Day 2019. Our unique, customized jewelry gifts & personalized engraved Mother's Day keepsakes are guaranteed to bring a smile to the face and warmth to the heart of any and all mothers.
If you already have your mind set on a certain style of gift, you'll find the menu below this paragraph to be of use. Just click the link to immediately be brought to the Mother's Day gift category you're seeking. Alternately, you can (and we humbly suggest you do) read this article in its entirety to see all of our picks for the best customized Mother's Day presents of 2019.
Top Personalized Mother's Day Gifts - Categories
We'll get this tour of the best customized Mother's Day Gifts for 2019 off to a tasteful and stylish start by showing you some of our personalized necklaces. Custom necklace gifts are a great way to thank your mother for all that she does and all who she is in a unique & personal way.
Personalized Birthstone Charm Necklaces - Customized Necklaces for Mother's Day Gifts
The first custom necklace we'll show you is our Personalized Birthstone Charm Necklace. This beautiful Mother's Day charm necklace contains up to TEN eternity style charms, featuring Swarovski crystals. Each one has a diameter of 1/2 of an inch. A guide to birthstones and their respective colors/months can be found on the product page. An elegant 16 inch rhodium plated steel necklace chain holds the birthstone charms, supplemented by a 3 inch extender to allow for any needed size changes. If desired, you can upgrade to include up to 12 birthstone charms, with each additional piece coming at a price of $5.50. Bringing it all together is a complementary gift box, bringing an added measure of both safety and class. These make great custom Mother's Day necklaces for mothers with several children or for grandmothers wishing to carry a symbol of each beloved grandchild at all times.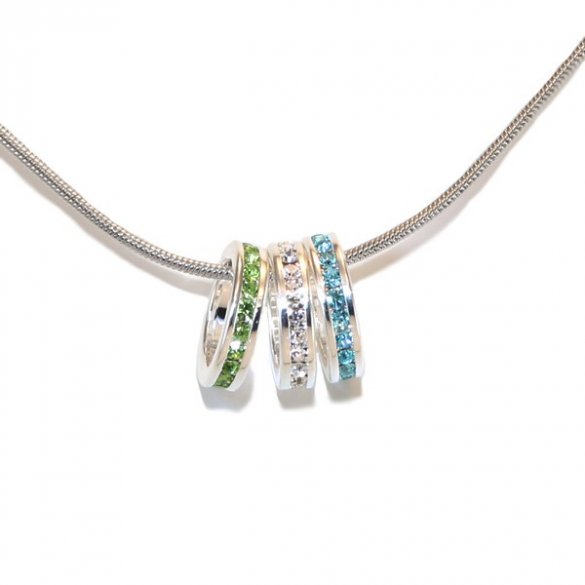 Family Tree 3 Birthstone Pendant - Personalized Family Tree Necklaces for Mother's Day
Next up is another beautiful necklace/pendant combination featuring elegant Swarovski birthstone crystals. Taking a decidedly more familial approach than the previous necklace, these customized Family Tree necklaces for Mother's Day go right to the roots. They're crafted from .925 Sterling Silver and molded into an elaborate tree shape inside of circle. The pendant is 3/4 of an inch in diameter and comes with your choice of three birthstones. These stones could represent children, grandchildren, or anyone else who your mother wishes to keep on her mind. Each pendant is attached to the 16 inch necklace chain and includes a 2 inch extender to create just the right fit. When you click the link at the beginning of this paragraph, you'll be taken to the page for this product. When the page loads, you'll see a button that says "Personalize Now". This is where you can choose your desired birthstone colors. As is the case with the first necklace, this one also comes with a customized gift box.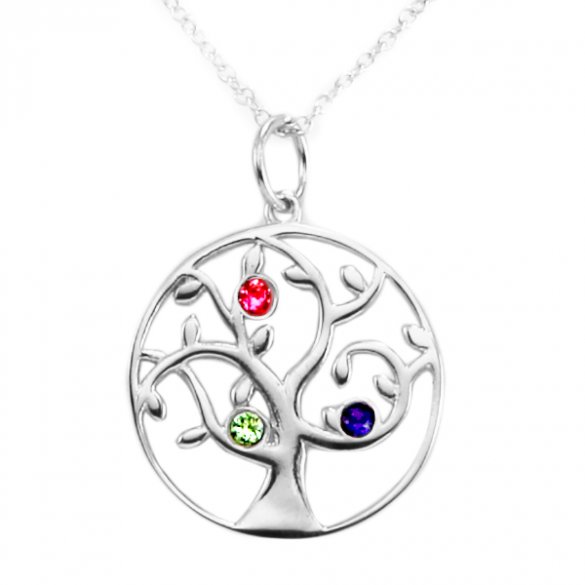 Custom Engraved Heart Picture Pendant - Personalized Mother's Day Photo Pendants
The third personalized Mother's Day necklace gift that we'll show you today is our Custom Engraved Heart Picture Pendant. These personalized engraved photo pendant necklaces allow you to capture one precious moment in time and immortalize it through a beautiful jewelry gift. These heart shaped photo necklaces are made from stainless steel with a non-tarnish finish, ensuring a glossy shine for years to come. Each engraved in gray tones, featuring any high-resolution image of your choosing. It attaches to an 18 inch curb chain by way of a lobster claw clasp. A three inch extender allows it to be adjusted to fit recipients of different sizes. For an upgrade fee, both sides of the pendant can be engraved with the provided image. They're making for amazing first-time Mother's Day gifts for any woman who has just welcomed her first child.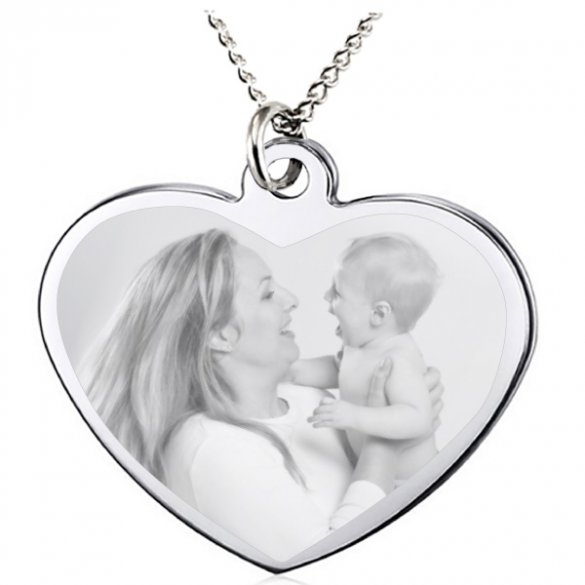 I Love You to the Moon and Back Birthstone Pendant - Custom Engraved Love Necklaces
We're not sure who started the trend or how it became so widespread, but these days, everyone seems to be telling their loved ones, "I love you to the moon and back!" Our exquisitely unique custom I Love You to the Moon and Back necklaces give a somewhat literal interpretation of this manta, making for a perfect Mother's Day gift. Each is made from durable 316 L stainless steel and is forged into the shape of a lively crescent moon on one side, and engraved star shapes on the other side. Inside of the middle star lies a beautiful Swarovski birthstone crystal. "I love you to the moon and back" is printed among the stars. Also included is an engraved personalized Mother's Day message on the opposite side of these 7/8" diameter pendants. An 18 inch curb necklace chain with a 3 inch extender is included in the price.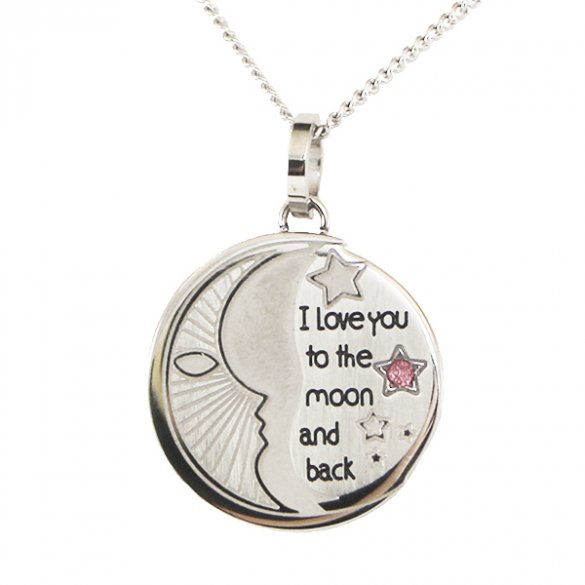 Engraved Secret Message Heart Envelope Locket with Photo - Customized Locket Gifts for Mom
When you really want to go all-out and give Mom or Grandma a gift she'll treasure forever, we suggest giving some thought to this personalized Mother's Day gift necklace. Our Engraved Secret Message Heart Envelope Locket with Photo is a custom engraved Mother's Day locket containing a full color photo, hidden in a secure secret compartment. Each includes a 316 L stainless steel locket pendant, which features an envelope shape that can be opened to reveal the picture inside. The picture appears in full color on a small stainless steel heart which can easily be taken in and out of the locket. Both the front and back sides of the locket can be engraved with your special message to your beloved mother, grandmother, or wife. The front features name engraving, while the back can include up to 3 lines of text. A lobster claw clasp attaches each of these personalized Mother's Day gift pendants to an 18 inch chain with a 3 inch extender.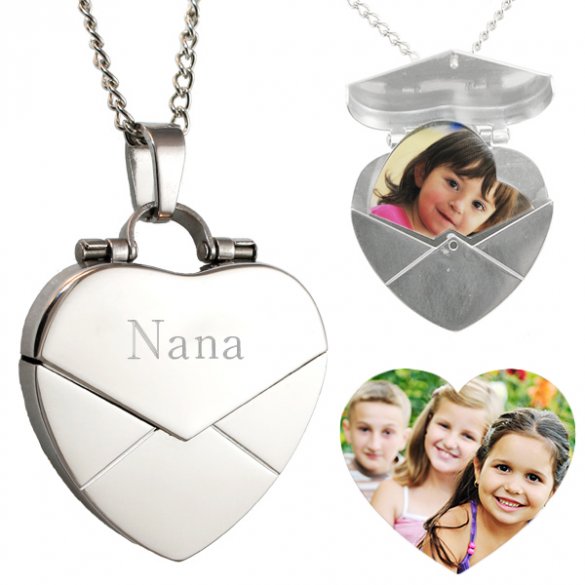 Maybe the dear mothers in your lives already have plenty of jewelry, but need a place to keep it all. Whether the extra storage space is actually needed or not doesn't matter much, as any woman would love to receive a beautiful heartfelt gift.
Vintage Style Engraved Jewelry Box - Customized Mother's Day Jewelry Gift Ideas
The first custom Mother's Day gift jewelry box we'll share with you is the Vintage Style Engraved Jewelry Box. These elegant and sophisticated custom engraved jewelry box gifts present a grand silver exterior with intricate designs throughout. Their antique silver finish is treated with lacquer to prevent any tarnishes or blemishes. When open, you'll find a luxurious dark blue flocked cloth interior, which creates a decidedly upscale effect as a backdrop to any piece of jewelry. Each of these Mother's Day jewelry boxes has a hinged opening and comes in its own individual presentation box. On top, there's a surface for engraving any special name, date, or message that will mean the most to the lucky recipient.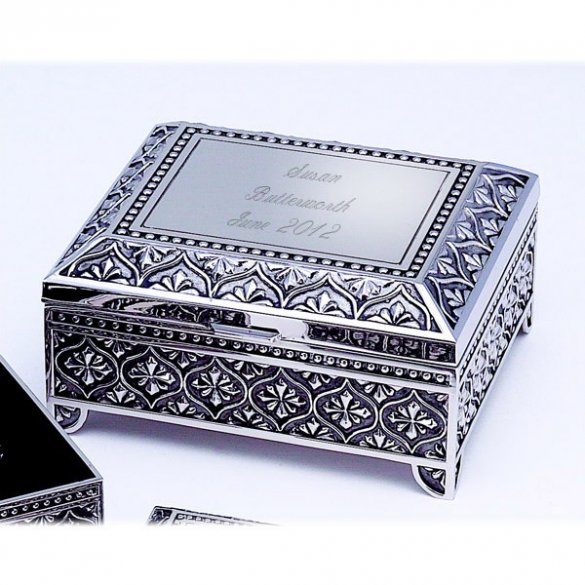 Heart Shaped Monogrammed Jewelry Box - Personalized Monogram Jewelry Boxes for Mother's Day
If the special mothers in your life prefer a more modern look, then this jewelry box may be a better fit. Our heart shaped personalized monogrammed jewelry box gifts are also silver in color and have a non-tarnish finish, but have more of a simple, contemporary look. Each is 3 inches wide by 3 inches high by 1/2 of an inch deep. A removable lid is engraved with the recipient's initials for a one-of-a-kind jewelry box gift that is sure to be treasured for a lifetime. When the monogrammed lid is removed, a soft blue velvet-like lining is visible along the interior. Each is individually boxed. While these make great Mother's Day gift ideas, they also work well for birthdays, anniversaries, and more!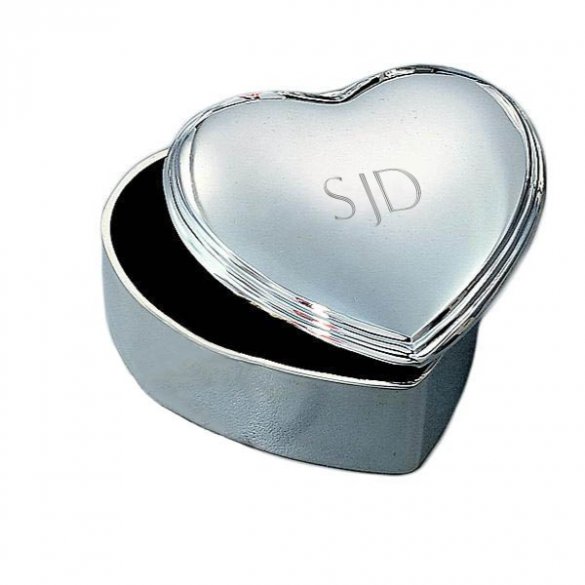 If the jewelry and/or jewelry box routes aren't what you have in mind for your Mother's Day gift this year, worry not. This section will present some of our more unique Mother's Day Gift ideas for 2019, with every offering featuring its own distinctive charm. Whether you're looking for something with a rustic, modern, or emotional motif, this section has it all.
Personalized Children's Handprint Mothers' Plaque - Personalized Gifts for Mom
Make your mother or grandmother feel like the award-winning woman she is by treating her to our personalized Mother's Day plaques. The example shown below (and linked to in the previous sentence) is the Children's Handprint Mother's Plaque. Made from a sturdy acrylic material, these customized Mother's Day gift plaques feature your choice of as few as one and as many as four handprints, each with a child or grandchild's name underneath. Each handprint has a heart for a palm with five fingers extending outward. The message below the handprints reads, "Mothers hold their child's hand for a little while, but their heart forever." Each plaque is 5 inches wide by 6½ inches high. This makes it an easy fit for desks, night stands, table tops, and shelves.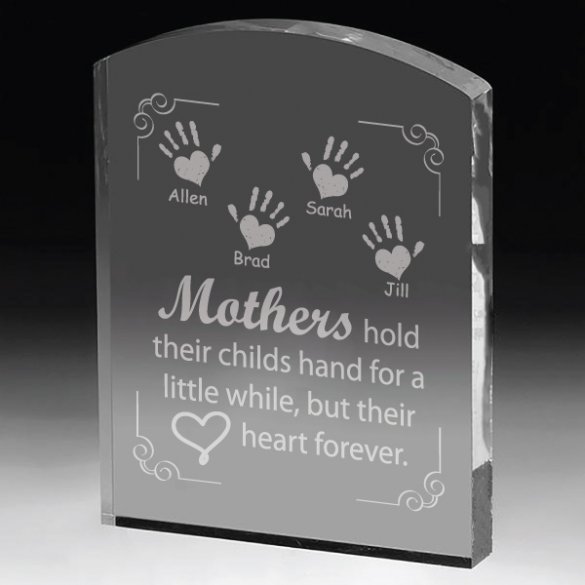 Personalized Wooden Wheelbarrow Blossom Kit
Every mother, grandmother, and wife loves to receive flowers from her children, grandchildren, or husband on Mother's Day. We've put a fun, unique little spin on this classic gift with our Personalized Wheelbarrow Blossom Kit. These custom engraved Mother's Day flower gifts feature a cute little wheelbarrow, personalized via an engraved message to the recipient. The wheelbarrow is made from classy pine wood and has a plastic liner. The liner is there so that the included peat pellet and marigold seeds can be placed inside. Just add water and watch the beautiful flowers grow! This is surely a creative and sure to be cherished departure from the typical flower pot style. Each ships in a natural kraft box which includes instructions for planting. The wheelbarrow is a conveniently compact yet not-too-small size, sporting dimensions of 2¼ inches wide by 7 inches long by 3 inches high.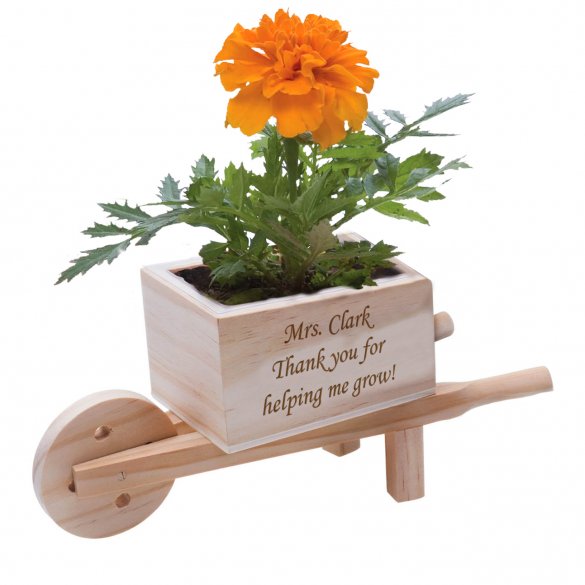 Children's Handprints Personalized Wood Carved Mother's Day Card - Best Unique Mother's Day Cards for 2019
If a modern look and acrylic material aren't quite the look you think your mother would most enjoy, the product we're about to share with you is an excellent alternative. Presenting a more rustic, homespun look, our personalized carved wooden Mother's Day cards come in your choice of cherry, red maple, or black maple. Similarly to the acrylic plaque shown earlier in this article, this customized wooden Mother's Day card displays between 1 and 4 handprints. Each handprint has five outstretched fingers and a heart for a palm. A child or grandchild's name is carved below each handprint. Appearing beneath the handprints is the same "Mothers hold their child's hand for little while, but their heart forever" quote included on the acrylic plaque. In addition to presenting a very different style, these card also differ from the acrylic plaques in size. Each is 4 inches wide by 6 inches high and comes presented in its own special envelope. These personalized Mother's Day keepsakes are the perfect size for being displayed on shelves, windowsills, bookcases, night stands, mantles, and more.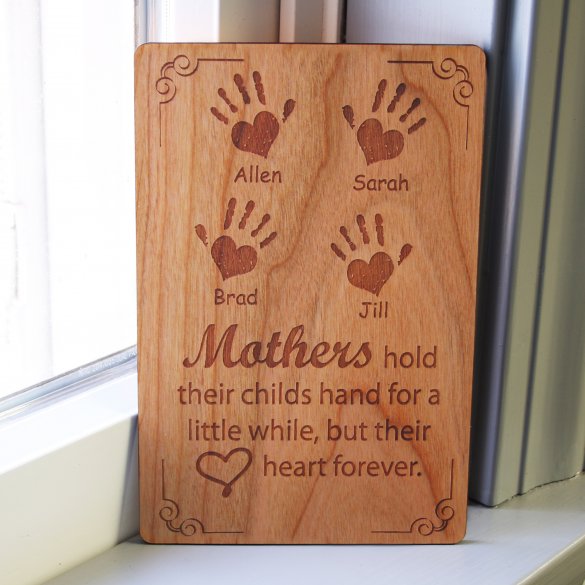 In Your Words Photo Heart Puzzle - Customized Photograph Puzzle Gifts for Mother's Day 2019
The next customizable Mother's Day gift on our list is one that works perfectly as a gift for mothers of all ages. Whether given as a personalized 1st Mother's Day gift or presented to a long-time grandmother, this is a gift sure to be adored and displayed with pride. Called the In Your Words Heart Puzzle, these custom Mother's Day photo puzzles are a creative and charming way to celebrate your love for Mom. Just send our talented team of artists a high-resolution photograph of your choice and they'll get to work on incorporating it into a puzzle. Each puzzle has 75 pieces and features your photograph, formed into the shape of a heart. They also come with a personalized message of your choosing. By default, the text will appear toward the bottom of the puzzle, but you can move it around wherever you like. If you'd like, you can also change the color and font style of the text. Every one of these personalized Mother's Day puzzle gifts is 7½ inches wide and comes in a cheery red envelope.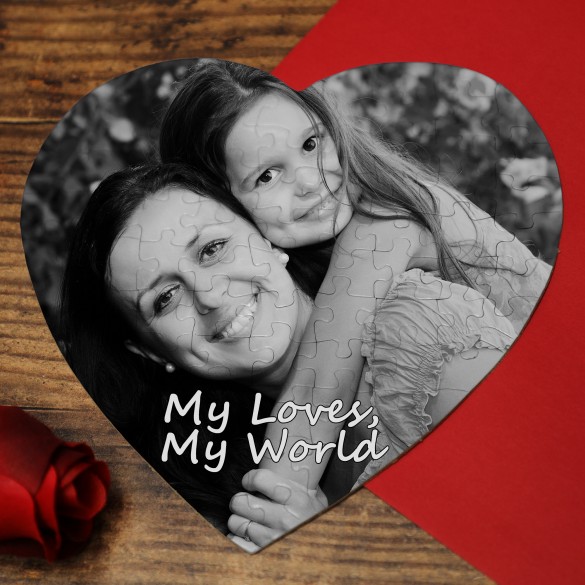 Himalayan Premium Insulated Custom Travel Mug - 18 oz - Custom Mother's Day Tumbler Gifts
We'll close out this section with our last, but certainly not least, unique personalized Mother's Day gift. This gift comes in the form of our Premium Vacuum Insulated 18 oz Himalayan Travel Mug. These personalized travel coffee tumblers feature stainless steel double wall construction, enabling them to keep beverages hot or cold for up to 6 hours. Their sturdy construction, 18 oz capacity, and spill-resistant slide action lid come together to create a personalized travel mug ideal for long road trips, work commutes, days in the office, or leisurely strolls in the great outdoors. The personalization factor is included through the engraving of up to 4 lines of text for a special message to your recipient. If you're interested in learning more about these custom tumbler gifts for Mother's Day, feel free to click the link included earlier in this paragraph. It'll open a new tab, allowing you to view the product page without being taken away from this article. 
For an unforgettable Mother's Day gift that truly goes above and beyond, we suggest taking a look at all of our personalized Mother's Day crystal gifts. We'll share three of them with you in the following section. All three are special order items which can ship within 2 business days.
Heart Shaped Custom 3D Crystal Ornament - Personalized Crystal Gifts for Mother's Day 2019
The first personalized crystal gift for mothers that we'd like to tell you about is our custom engraved heart shaped crystal ornament. These personalized 3D ornaments are perfect as a Mother's Day gift, but can be hung anywhere in the house to be enjoyed all year long. Additionally, they can be used as customized Christmas gifts for her, with "her" being any devoted mother, grandmother, of wife. Each ornament is 2½ inches wide by 2½ inches wide and can be hung by a window, on a Christmas tree, or any other area of choice. A silver ribbon is included to make displaying these crystal ornaments easy and in style. Send us your high resolution photo of either 1 or 2 people and our artists will get to work on transforming it into a beautiful graphic on your ornament. Please give us a call, email, or live chat message if you have any questions as to further personalization options.
3D Engraved Heart Crystal Keepsake - Custom Etched Photo Crystal Gifts for Mother's Day
Taking a somewhat different approach from the crystal gift described in the preceding paragraph is our custom photo engraved Crystal Heart Keepsake. This is an item that's been growing in popularity for some time and is sure to be one of the top personalized gifts for Mother's Day 2019. These customizable crystal gifts have heirloom potential written all over them (not literally of course). To get the ball rolling, you need to send us a high resolution photograph of either one or two people. We'll then etch your image into the crystal. Its three-dimensional qualities help to create the illusion of the people picture residing inside of the crystal. If desired, 1-2 lines of customized text in your choice of fonts as well as an LED lighted base can be included as upgrades. Three different sizes are available, so please be sure to specify which one you'd like while ordering.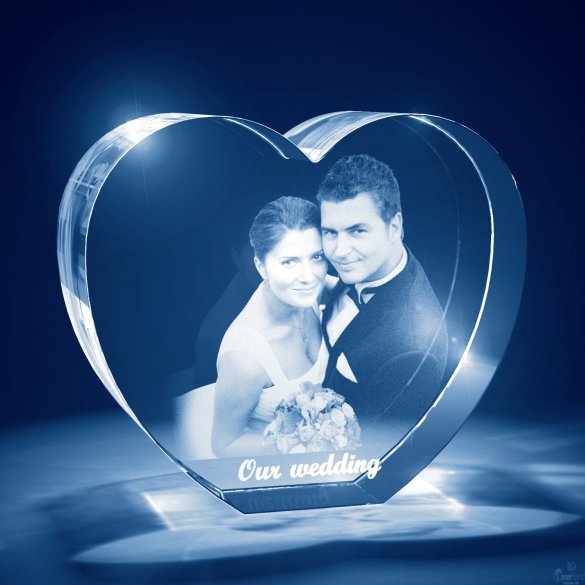 3D Engraved Crystal Brick Keepsake - Best Custom Engraved Crystal Keepsakes for Mother's Day Gifts
Completing our list for the best customizable Mother's Day gifts for 2019 is our 3D Crystal Keepsake Brick. Much like the 3D Crystal Heart described in the previous paragraph, our personalized photo engraved crystal keepsake bricks. These present a three-dimensional rectangular shape that is a bit easier to place on a flat surface such as a desktop, shelf, bookcase shelf, night stand, mantle, or windowsill. Each includes an expertly etched rendition of your chosen photograph, including either one or two people. The three dimensional effect created by the crystal allows the photo to sit more deeply than any engraved text you may choose to add. If you'd like to upgrade to personalize this gift even further, the aforementioned custom engraved straight line text can be added, as can an LED lighted base. These are available in 7 different sizes, so be sure to click the link toward the beginning of this paragraph to view the product page and see which size is the best fit for your gifting needs.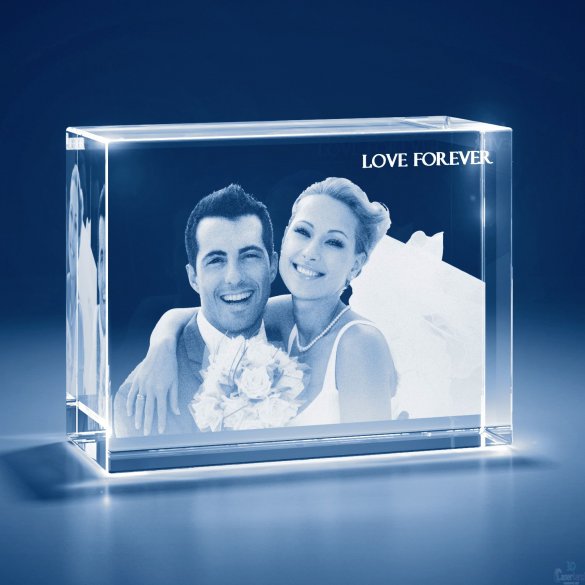 That just about wraps it up for our guide to the best personalized Mother's Day gifts for 2019. If any of the products featured in this article caught your eye and you'd like to know more about them, feel free to contact us at any time. With that, we'll close by wishing you and all of the amazing, wonderful mothers out there the healthiest & happiest of Mother's Days!