Gift the Gift of Life-Saving Style with our Fashionable Medical Alert Bracelets & Jewelry!
Today we want to share with you our guide to some of our best personalized medical alert bracelets & jewelry. Our custom medical alert ID jewelry can go a long way in helping to save any recipient in times of trouble. These make great peace of mind gifts for children, parents, grandparents, friends, students, and even for yourself! When an illness, allergy, or medical condition causes trouble and an affected person has trouble communicating, our customizable medical alert jewelry can convey vital information to healthcare professionals and emergency service workers. They also look great, boosting confidence & upgrading the fashion factor for all who wear them. 
With this said, we'll now provide a menu to break up this article into smaller sections to direct you right to the types of medical ID jewelry  you're interested in. Of course, you can also read the full contents from top to bottom if you'd like to get a fuller understanding for all that we have to offer.
Different Types of Medical Alert ID Jewelry
When it comes to the best in attractive medical alert jewelry, you can always depend on ForAllGifts to deliver. We carry gold women's medical alert bracelets, customized bangle bracelets, medical ID charm bracelets for ladies, personalized women's leather medical alert bracelets, bar bracelets, pendants & more. We'll discuss all of these options and styles in this section.
Are you (or are any of your friends/loved ones) a fan of bangle bracelets? We offer a wide variety of customized bangle medical alert bracelets for women available on our site each and every day. These are firm bracelets that are equipped with all the components needed to stay in place. At the same time, they're wonderfully lightweight. One great example would be our Ladies' Engraved Gold Oval Bangle Medical ID Bracelet, which is pictured below: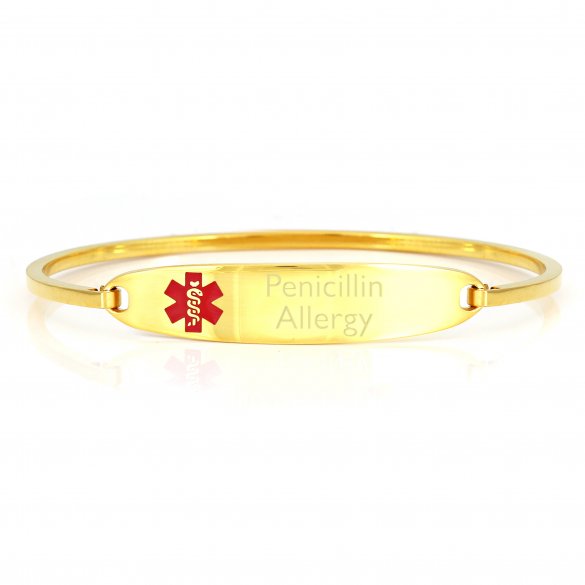 Another popular style of stylish women's medical bracelets that we carry is our family of personalized medical alert charm bracelets. These are bracelets that feature hanging pendants and decorative elements that extend down from a thin wrist ring. Some of these items, such as the Engravable Medical Alert Charm Bracelet, pictured below, feature bright red caduceus designs. These are an instant clue to first responders and healthcare professionals that the wearer has a medical condition, allergy, or medication that will need to be taken into consideration before treatment. Some of our other medical ID charm bracelets have an additional theme, such as a nautical motif.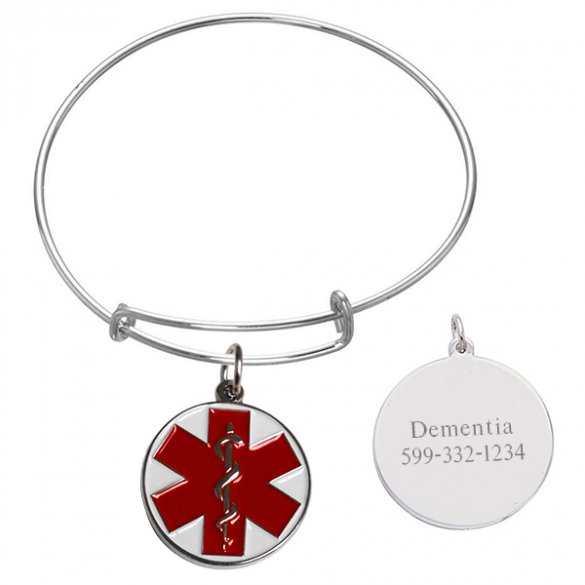 Depending on how one chooses to accessorize, a medical alert bracelet could be a headlining fashion statement or a more subtle accent piece. That's why we pride ourselves on providing medical jewelry items that cover both needs, as well as others that combine the two. Our fashionable yet subtle women's medical ID jewelry allows for maximum comfort, safety, and versatility. Due to their relatively small size and ability to be attached to so many different pieces, our custom medical alert pendants are a natural favorite in this category. A perfect example is displayed at the end of this paragraph, coming in the form of the Engraved Medical Alert Bar Pendant.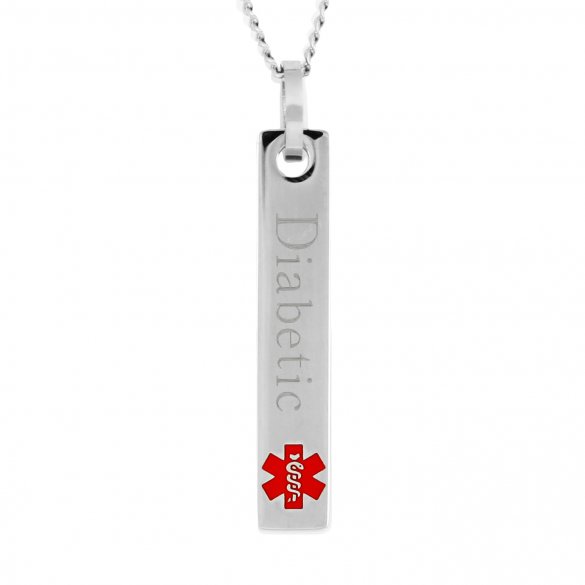 The fourth style of customizable medical alert jewelry for women that we'll cover in this article is our assortment of laser engraved medical ID lockets. These make for extra special gifts, as they include multiple items for the price of one. Each locket comes with a chain and small hinged compartment that can open and close. These compartments are heart shaped with envelope and caduceus designs and patterns engraved into their surfaces. On the inside of each, you'll find special inserts which are custom engraved with vital medical and personal ID information that healthcare workers will need to know. To get a feel for how these items look, just take a look at the Engraved Medical Symbol Locket, an image of which is located just below this paragraph. 
The last women's medical jewelry category we'll cover today is our customizable leather medical alert ID bracelets. The elegance and sophistication of genuine leather combine with the no-nonsense look of stainless steel to create a piece of jewelry that demands attention. Comfortable, easy to wear, and a great fit for nearly any outfit or occasion, these are some of our most popular pieces of ladies' medical jewelry. To provide a visual aid, we're including an image of the Engravable Black Triple Cord Medical ID Bracelet below.
Our medical alert jewelry offerings aren't limited to just gifts for the ladies. We have plenty of custom engraved medical alert jewelry for men as well. Between our stainless steel men's medical ID bracelets, personalized diabetic ID bracelets for men, unique men's medical ID dog tags and beyond, we have a plethora of medical jewelry gifts that keep it masculine.
Many of our men's medical jewelry offerings consist of items constructed from stainless steel. There are many styles within this family, with some of the most popular members being our brushed stainless steel medical alert bracelets for men. As can be seen in the picture following this paragraph, these custom laser engraved bracelets are on the wider side and have an interlocking structure not unlike that of a watch. With their ease of use, stoic style, and medical safety utility, any guy on your gift list will be happy to receive one of our stainless steel medical alert bracelets.
Diabetes is among the most common of chronic medical ailments around the world. It's also one of the conditions most responsible for hospital visits and emergency medical calls. While we have attractive engraved diabetic medical jewelry for both genders, in this section, we're focusing on our personalized diabetic medical bracelets for men. These are medical jewelry gifts that are easy to put on, easy to take off, and easy for medical personnel to see and read in times of trouble. If you'd like to get a feel for what we have to offer without opening a new tab, simply glance below this sentence to view our simply named Men's Diabetic Medical Alert ID Bracelet.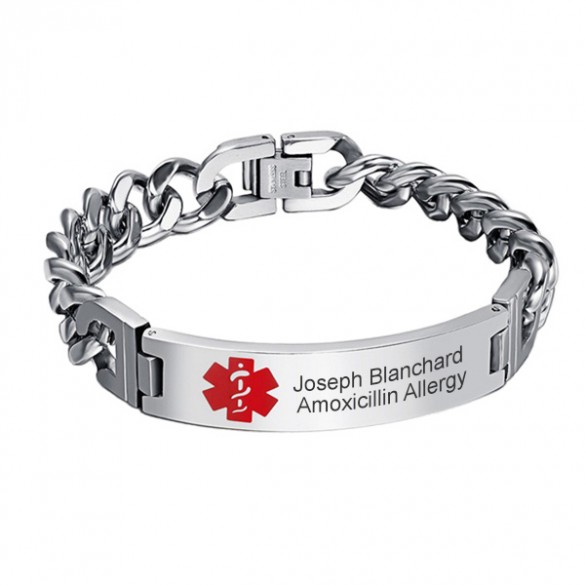 Allergies, ailments, and other medical odds and ends can often be the most difficult to deal with when it comes to children. After all, it's harder for a young child to understand their condition and the responsibilities involved than it is for an adult. Also, there's the whole fitting in at school factor. We make this as easy as can be with our children's medical ID bracelets. Our custom medical alert jewelry for boys, such as the custom engraved Dump Truck Pendant pictured below, are always a hit. Boys will enjoy wearing these stylish items and feel empowered in school, at home, and wherever else they go.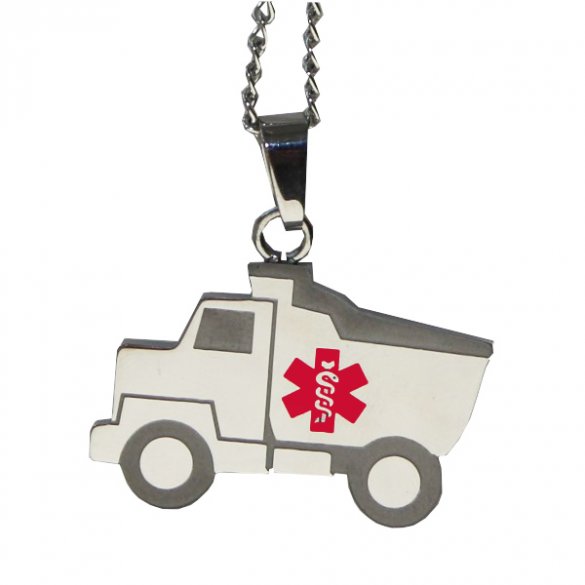 As tough as the social scene can be for adults, it can be equally difficult, if not even harder, for children. We all remember going through our own awkward phases and the fact that some of our peers were far less than accommodating. We carry specialized medical ID jewelry for kids to avoid the potential discomfort an adult item or outdated medical bracelet might bring. Our personalized medical alert jewelry for girls is designed to help girls feel comfortable, confident, and lack self-consciousness over their medical condition or allergy. An attractive, fashionable accessory such as our Princess Medical ID Necklace is sure to strike up conversation, boost confidence, and even create new friendships.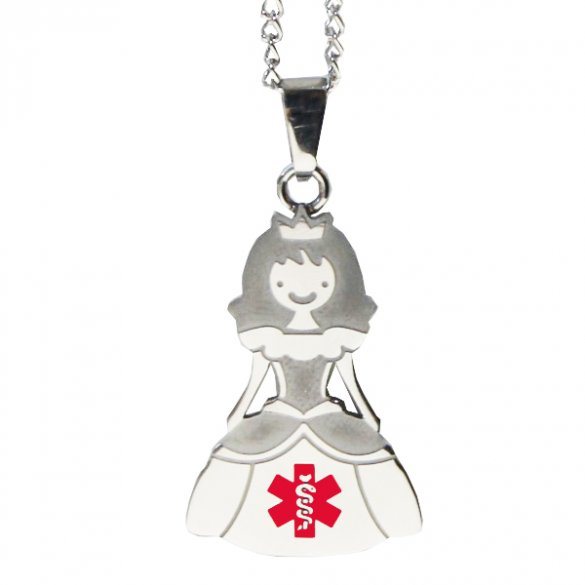 Next we'll tell you a little bit about our fashionable medical alert bar bracelets for men and women. These are bracelets that have a chain section that is broken up in the middle by a flat nameplate. This is a style that is popular when it comes to both bracelets and necklaces. Our custom laser engraved medical ID bracelets are designed to be simple to take on and off, preventing troublesome situations such as the bracelet accidentally coming off or being unable to be donned in the first place. Each has a plate that is engraved with important medical information that could prove life-saving in a pinch. Quite a gift, when you stop and think about it. The image below is of our Personalized Gold Medical ID Bar Bracelet.
We'll wrap this article up with a brief discussion of custom engraved medical alert dog tags. They're highly popular among individuals who have served in the military, though that's surely not a requirement for living this style of medical ID jewelry. The dog tags we personally engrave for each recipient are made from a variety of materials and come in a big blend of colors, sizes, and fashions. Each has a chain for wearing around the neck or wrist, allowing one to wear these pendant or bracelet style, depending on how the chain is manipulated. Our "display model" at the end of this paragraph is the Black Engraved Medical Alert Dog Tag, one of our most unique yet best-selling styles.
That's just about for this guide to our picks for the 15 best pieces of custom engraved medical alert jewelry and personalized medical alert ID bracelets for 2019. Be sure to let us know what you think of the items we've included and be sure to leave a review if you've bought one in the past and would like to tell the world of your experience. Curious to see all of our custom medical alert bracelets & ID jewelry, even the pieces not addressed in this article? If so, just click on the link in the previous sentence to see it all!