Stay Safe, Comfortable & Stylish with Personalized Face Coverings
A year ago, we never nobody ever would have imagined that we'd be where we are right now. Due to the current Coronavirus (COVID-19) pandemic, things are quite a bit different than anyone could have predicted. One of the hardest aspects to ignore is that face coverings have become a staple in most people's outfits. Since this is something we're going to have to put up with for the time being, why have a little fun with it? One great way to do this is to add a personal touch to your face covering or to one that you're sending as a gift. We offer a variety of custom face masks, neck gaiters, and protective coverings to make it fun and easy to comply with local ordinances while still expressing an individual identity. Our high-quality face coverings provide protection, comfort, and style, all in one fell swoop.
Whether you'd prefer to create your own face mask coverings, flaunt individuality with a personalized neck gaiters, or gift the young ones in your life with personalized face coverings for children, ForAllGifts has you covered – literally. Our high-quality fabrics are sure to please, feeling soft and comfortable against the skin. Adjustable sizing on almost all of our masks ensures a secure fit that provides the best type of facial coverage you needed when you or friends/loved ones are out and about.
Let's take a closer look at the many customizable face masks we offer!
Personalized Face Coverings for Kids
We have a wide variety of fun, fashionable, and comfortable custom face coverings that kids of all ages will love to wear. ForAllGifts offers a blend of personalized face masks for boys and customizable face masks for girls, all of which are made from high quality materials and are designed to last. Each youth face covering is personalized with the child's name to add a bit of unique identity and personal attention to these health protection accessories. Pictured below is our Green Camouflage Kids' Face Cover. This is one of our more popular models, also coming in a pink version for girls.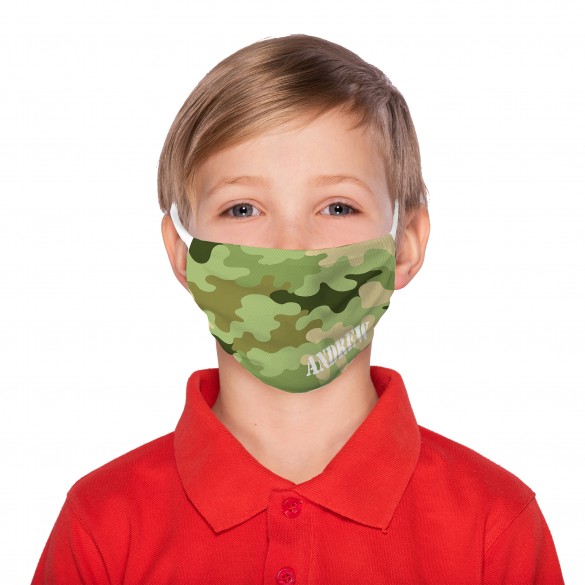 Customizable Face Coverings & Gaiters for Men
Our personal face covering options include something for everyone on your list. As you've already seen, we have customized face masks for children, but we also carry many styles for adults. We have many face coverings for both men and women. Looking for a custom face covering for dad? Try out our Top Dad Golf Face Cover, pictured below and linked to above. We also have baseball-themed face coverings, masks personalized to root for one's favorite sports team, customized novelty face masks for guys, and more. ForAllGifts can help you find exactly what you're looking for. In addition, we'll prepare it for you quickly, efficiently, and at an affordable cost.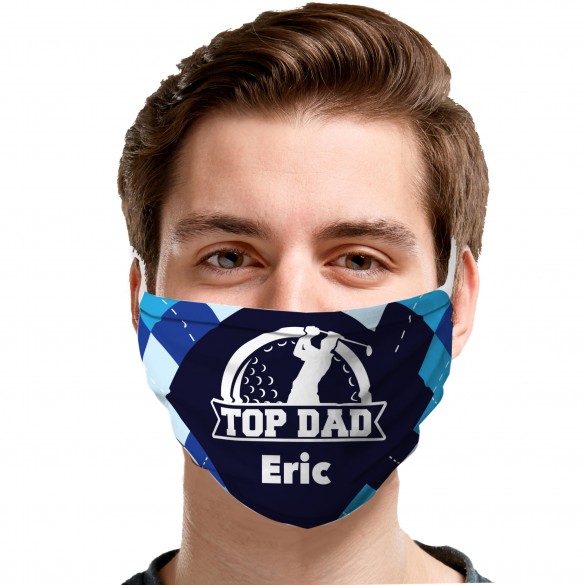 Personalized Neck Gaiters for Women & Custom Face Masks for Her
Don't worry ladies, we haven't forgotten about you. We have a grand array of personalized face masks for women as well. Looking for a nice floral face mask for mom? We have them! We have many other feminine face cover gifts to choose from. One need not be a mother to get in on the fun. These include more masks as well as customized neck gaiters for women, decorated with initials or names. One great example is pictured below, in the form of our Pink Lotus Custom Women's Neck Gaiter.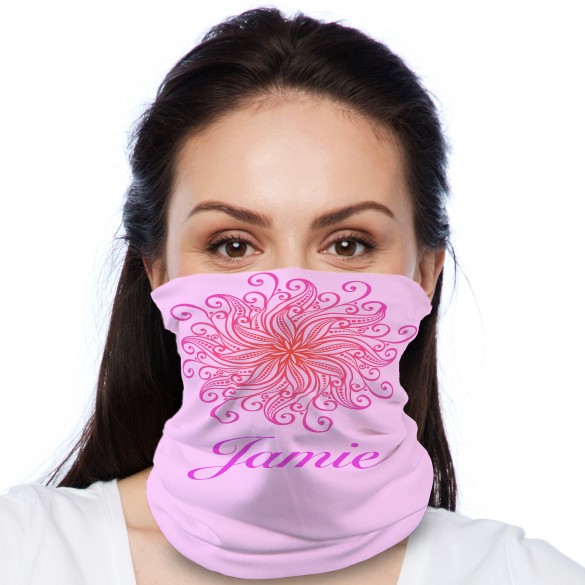 Custom Face Coverings for Animal Lovers
If there's an animal lover on your gifting list, any of our custom animal print face masks & gaiters will make a cherished present. Dogs, cats, and several other animals are depicted on these face coverings. They're great for shelter volunteers, dedicated pet lovers, or even friends or family members who might happen to be veterinarians or pet groomers. There are several different styles to choose from, with our Cat Face Bandana, pictured below, being one great example.
Unique Social Distancing Face Covers
Some people take social distancing very seriously, while other people respect it, but still wish to have a laugh as well. You can cater to both ends of the spectrum with our assortment of customized novelty social distancing face masks & bandanas and more serious embroidered social distancing face covers. Both styles allow recipients to express their personal feelings on the issue while also taking precautions to stay safe. Our humorous "Quarantine Inmate" face mask is depicted in the image following this paragraph.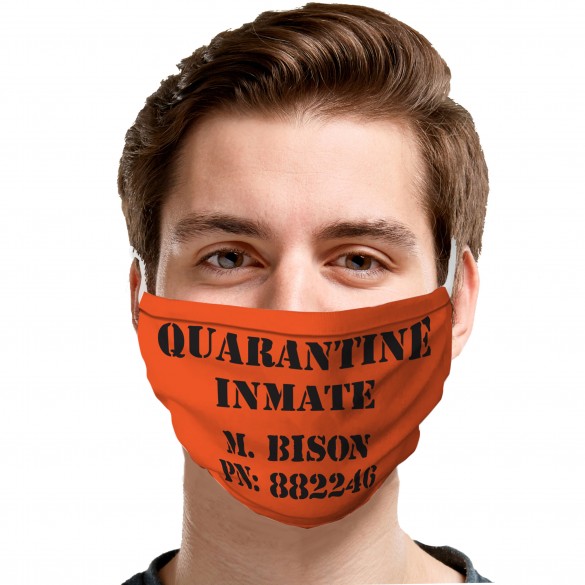 Customized Photo Face Masks & Coverings
We'll finish up by talking a bit about our very most personalized face mask gifts. These come in the form of our custom photo face coverings. With these items, you can send us a picture of a beloved pet, person, place, or any other entity. We then get to work on creating a graphic out of it that is placed front and center on the face mask or gaiter. Stay safe and secure while keeping what you love most in sight at all times!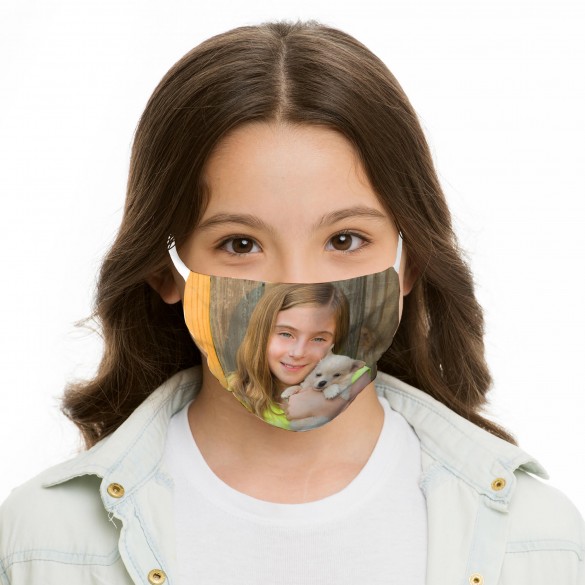 If you have questions about our wide selection of personalized face masks or customization options, feel free to contact us at your earliest convenience. Our expert team is here to help you select the perfect ear loop mask, neck gaiter scarf, or other face covering to keep you safe, and comply with mask guidelines without losing your sense of individuality.