Personalized Black Wallet with Monogram
Description
Personalize this black leatherette wallet with your custom monogram. A typical monogram has the initial of your last name in the center, with the initial of your first name on the left and your middle name on the right. Your monogram will stand out nicely in the bottom right corner of this black wallet. A great graduation gift, Father's Day gift or for Christmas or Valentine's Day. These monogrammed wallets are also perfect as gifts for your groomsmen.
Leatherette
Measures: 4 1/2" X 3 1/2"  
Resists water and fading, can gently clean without leaving water stains
Cash pocket, six card slots, and two inner slots 
View Gift Box Option: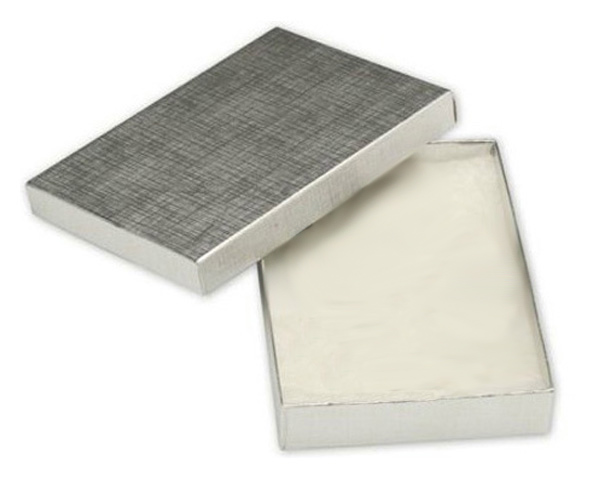 Additional Information
Custom black men's wallets make a stylish yet classic gift that lucky recipients will use again and again for years. Take our Personalized Black Wallet with Monogram for example. These unique monogrammed wallets will let your recipient know they were made and designed especially for them. Every time they take out a card or some cash, they'll be reminded of the fact that they are truly someone special in their heart. They'll be proud to have an item that reminds them of their worth that also looks great while doing it. Made from sturdy faux leather, these animal product fee wallets are more resistant to water, stains, and fading when compared to traditional leather. 
Anyone using these customizable black wallets will never be at a loss for storage space. With a total of 8 slots (six card slots, 2 hidden interior slots) and a generous pocket for bills and checks, your lucky recipient will be able to fit all the items he can't leave home without. Whether paying for groceries, showing ID, heading to the bank to make a deposit, or taking out a card to make a purchase online, these custom wallet gifts will have their users set and ready to go.
Personalized Wallet Features: 
Size: 4½" L x 3½" W - Folded

Design Your Own Custom Wallet Gifts: Silver Imprinted Monogram Included in Price

Style: Custom Men's Monogrammed Wallets

Color: Black

Material: Animal Product Free Leatherette

Durable: Resistant to Water, Fading, and Stains

Compartments: 2 Interior Hidden Slots, 6 Card Slots, 1 Large Check/Cash Pocket

Upgrades: Gift Boxing & Greeting Card for Additional Fee
In terms of size, these personalized wallets are 4½ inches long by 3½ inches wide when closed in a folded position. While mostly black in color, each is imprinted in bright silver in the lower right hand corner of the outer front panel. A double circle design contains a monogram including the first, middle, and last initial of your recipient. Bright accent stitching also scores some aesthetic points, as does the contrasting brown interior back panel. Want to design your own wallet gifts in more than one style for more than one recipient? If so, just click on the preceding link to see some more of our wallets with monograms, initials, and graphics.  
Top Sellers in Wallets & Personal Carriers