Personalized Brown Wallet with Name
Description
Is your dad a super star? Have a brother that deserves some recognition? Our personalized name wallet will be the perfect gift for him! This design features a geometric frame with little star accents, which will make the custom engraved name stand out. This durable leatherette wallet is a bifold style for simple use, the material is sturdier and more weather resistant than typical leather. Personalize this stylishly designed wallet with his name and he will think of you every time he pulls it out of his pocket! Makes a great gift for groomsmen, dads, godfathers, and nephews. Wedding favors, Father's Day, and Christmas are all great holidays to personalize this fantastic custom wallet.
Leatherette

Measures: 4 1/2" Long X 3 1/2" Wide

Resists water and fading, can gently clean without leaving water stains

Cash pocket, six card slots, and two inner slots 
View Gift Box Option: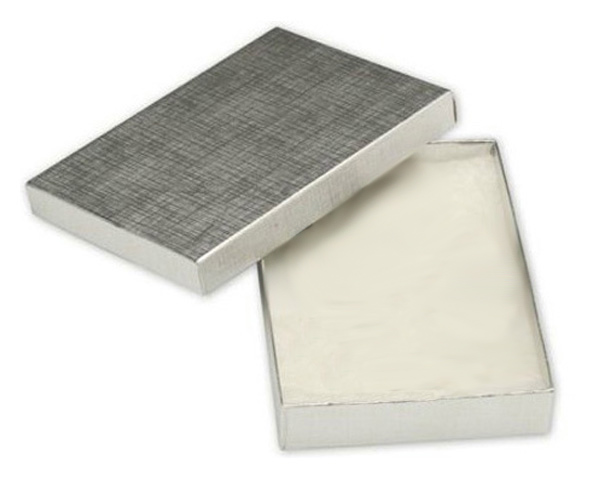 Additional Information
Custom name wallets always make great personalized gifts of occasions such as birthdays, graduations, retirements, job promotions, Father's Day, and many others. Who wouldn't love to have an item they use every day that reminds them of how much their friends and loved ones care about them? That's the idea behind our simply titled Personalized Brown Wallet with Name. As this moniker would imply, each of these custom engraved wallet gifts is engraved with the name of your recipient. 
These are custom bifold wallets, meaning that when open, each will display two equal sections for storage. Speaking of storage, these custom leatherette wallets are appointed with a cash pocket, six card slots, and two inner slots for storing bills. They're constructed from a soft yet sturdy leatherette material that, in addition to being animal-friendly, also is more water and stain resistant than traditional leather.
Custom Wallet Features:
Size: 4½" L x 3½" W (Closed)

Engraved Wallet Gifts: Each is Engraved in Your Choice of Several Fonts

Style: Custom Name Wallets with Star Pattern

Material: Soft Brown Leatherette

Storage: 6 Card Slots, Cash Pocket, 2 Inner Slots

Durable: Water, Stain, and Fade Resistant

Upgrades: Gift Box & Greeting Card Available for Additional Charge
These personalized faux leather wallets are 4½ inches long by 3½ inches wide when folded. Customize each to fit your recipient(s) by way of taking advantage of the line of engraved text that is included in the price. This line of text comes in your choice of several fonts and is typically used to display a name. A somewhat subtle star pattern surrounds the engraved text, drawing attention to the engraved name. For an added charge, each wallet can be shipped in a gift box and even be accompanied by a greeting card. If you like what you see here and wish to view more of our custom leatherette wallets and/or custom name wallets, additional models are accessible via the preceding links.  
Top Sellers in Wallets & Personal Carriers